HomePage
|
RecentChanges
|
EditorIndex
|
TextEditorFamilies
|
Preferences
---

 Text editor/processor for 8-bit Atari computers, based on SpeedScript.


 Author:   Petr Jandik
 Homepage: http://atari.turiecfoto.sk/soft/
 Download: http://atari.turiecfoto.sk/soft/capek-3.1-a1029.zip
 Family:   Atari8bitFamily
 Platform: Atari 400/600/800/LX/XE
 License:

This editor uses almost the same keystrokes as SpeedScript, but all messages were translated to Czech language. Character set was also modified to support Czech accents (subset of Latin 2). Available in many variants - for A1029 printer or BT-100 printer, for use with disk drive or cassette recorder etc.
Very similar to text editors Cizek and Stur.

 Screenshot: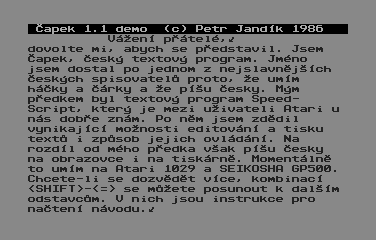 ---