HomePage
|
RecentChanges
|
EditorIndex
|
TextEditorFamilies
|
Preferences
---

 Highly portable Emacs style editor based on MicroEMACS


 Author:   Jon Green, Steven Phillips
 Homepage: http://www.jasspa.com/
 Family:   EmacsFamily
 Platform: AIX, BSD, CentOS?, Cygwin, HP-UX, Irix, Linux, MS-DOS, Windows,
 License:  Gnu Public License
 RefCard:  http://www.jamesie.de/microemacs/me-refcard.pdf (PDF)

An Emacs editor biased towards UNIX users, working across platforms by providing a consistent interface under UNIX, Microsoft Windows '95/'98/NT and DOS operating systems. It is free software (GPL). It uses a subset of full emacs command set. It can emulate the keybindings from Microemacs, GNU Emacs, and even Windows CUA keybindings. It's a much enhanced version of the Daniel Lawrence's original MicroEmacs 3.8 of 1988. It is stressed that although Daniel Lawrence's 3.8 version was used as a base, he has had no involvement in the development of this distribution. To avoid any confusion with the original MicroEmacs, this distribution should be referred to as the JASSPA distribution.
Fully featured editor, retaining the lightness of the original MicroEmacs 3.8 with much enhanced capability.
Small memory and disk footprint.
Window manager support for X-Windows, Microsoft Windows.
Integrated spell checker
Undo facility to back-step changes.
Extensive macro language allowing new commands to be created.
Auto C indentation support, with user definable indentation schemes for other languages
Auto saving and automatic multiple backups.
Multi-font printing support.
Multi-task pipe support for executing shell commands within the context of the editor.
Color language hi-lighting, can be used for any type of file.
Comprehensive on-line help (internal, WinHelp?, HTML)
Go-to-next grep line/compile error...
Abbreviation and command completion.
Binary file editing support
Integral file browser with FTP support
Session history.
Extensible, menu and dialogue features.

 Screenshot: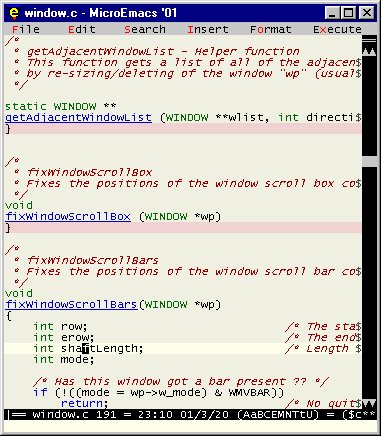 ---