HomePage
|
RecentChanges
|
EditorIndex
|
TextEditorFamilies
|
Preferences
---

 Epsilon Programmer's Editor, an advanced EMACS-style programmer's text editor


 Author:       Lugaru Software, Ltd.
 Homepage:     http://www.lugaru.com
 Family:       EmacsFamily
 Platform:     Windows, Linux, Mac OS X, FreeBSD, OS/2, MS-DOS
 License:      Shareware

PC based text editor that emulates EmacsKeyboardLayout, with a Brief layout as an option
It uses a ClikeLanguage called "eel" for extensions. This allows you to make it do just about anything you'd like, just like GnuEmacs or any other full-featured editor.
Incidentally, "lugaru" is phonetically the same as Loup Garou (in french). That means Werewolf (that might explain the wolf mascot, huh?)
It is a bit on the pricey side, at $250 (as of 1/16/2006).
[A TECO implmentation in EEL for Epsilon] is here.

 Screenshot: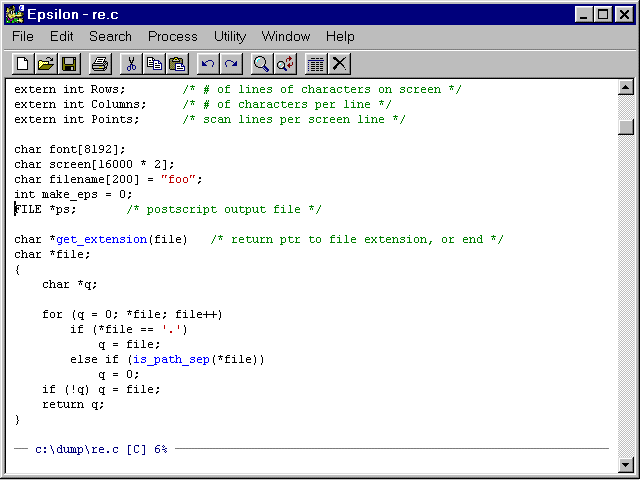 ---