HomePage
|
RecentChanges
|
EditorIndex
|
TextEditorFamilies
|
Preferences
---

 Language neutral programmer's editor with FTP client and project support


 Author:       Thistle Software
 Homepage:     http://www.thistlesoft.com/PrEditor/PrEditor.php
 Family:       MicrosoftWindowsEditors
 Platform:     Windows
 License:      Shareware

No limits on number of files, line length, number of lines, file size, or number of windows.
Syntax highlighting - automatically detects the language type based on file extension.
Print / Preview with full colour or 'Pretty printing'.
Long filename support.
Tabbed user interface for easier navigation of open files.
Language sensitive menus.
Context menus (configurable).
Transparent support for DOS, UNIX, and Macintosh format files.
Middle mouse scrolling support.
FTP open / save allows you to edit files on remote computers seamlessly.
Files history support. The settings, bookmarks, and file locations are remembered for the (default 100) previously edited files.
Dockable windows.
Save and restore state between sessions.
Line numbers display/printing.
Show invisibles characters.
Open associated file.
Automatic reload of externally edited files.
Autosave, crash-recovery, and auto-backup all reduce the possibility of losing work.
Built-in encryption - keep documents safe from prying eyes.

 Screenshot: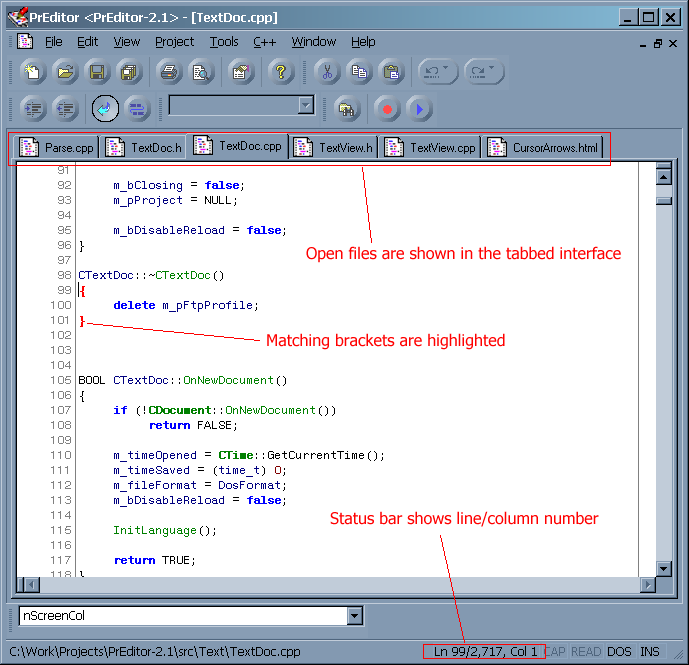 ---