HomePage
|
RecentChanges
|
EditorIndex
|
TextEditorFamilies
|
Preferences
---

 A simple editor for unix platforms.


 Author:   G.P. Halkes
 Homepage: http://os.ghalkes.nl/tilde.html
 Download: (source) http://os.ghalkes.nl/dist/tilde-0.2.0.tar.bz2
 Family:   CuaFamily LinuxEditorFamily
 Platform: Unix
 License:  GPL v3
 Screenshot: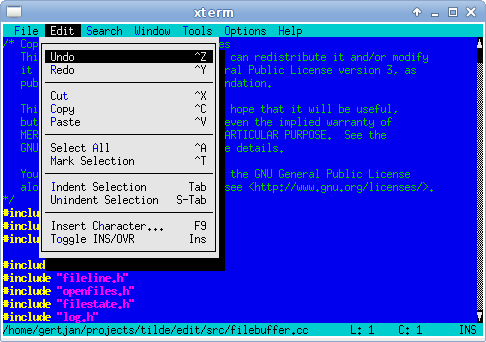 Tilde is a text editor for the console/terminal, which provides an intuitive interface for people accustomed to GUI environments such as Gnome, KDE and Windows. For example, the short-cut to copy the current selection is Control-C, and to paste the previously copied text the short-cut Control-V can be used. As another example, the File menu can be accessed by pressing Meta-F.
---