HomePage
|
RecentChanges
|
EditorIndex
|
TextEditorFamilies
|
Preferences
---

 xmloperator is an XML editor, suitable for editing data oriented documents.


 Author:   Didier Demany. 
 Homepage: http://www.xmloperator.net/
 Family:   XMLEditorFamily, JavaBasedEditors
 Platform: Sun Java Virtual Machine
 License:  Open Source

Features
Any RELAX NG schema or DTD can be used for guiding editing.
ID, IDREF and IDREFS attributes consistent management.
Unlimited undo/redo.
Saving of operations while editing avoids any loss in case of system crash.
Capability for editing arbitrarily large documents.
Other services
Document transformations using either a transformer or an XSLT stylesheet (the XSLT engine and the XPath evaluator are provided by Xalan-J).
Documents comparison without taking into account the ordering of elements.

 Screenshot: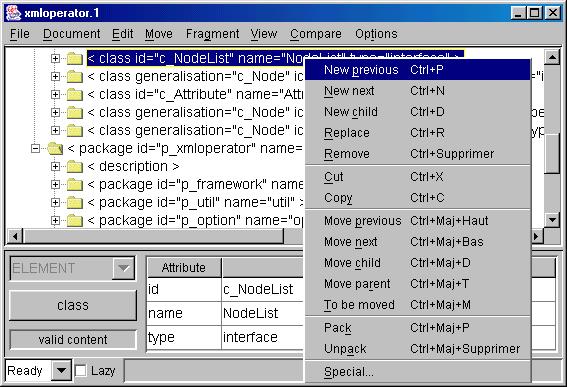 ---