HomePage
|
RecentChanges
|
EditorIndex
|
TextEditorFamilies
|
Preferences
---
Difference (from prior major revision)
(
minor diff
,
author diff
)
Changed: 59c59
---

 PSPad is a freeware programmer's editor for Microsoft Windows. 


 Author:   Jan Fiala
 Homepage: http://www.pspad.com/
 Family:   MicrosoftWindowsEditors NotepadReplacement SynEditEditorFamily
 License:  Freeware
 Platform: Windows
 Screenshot: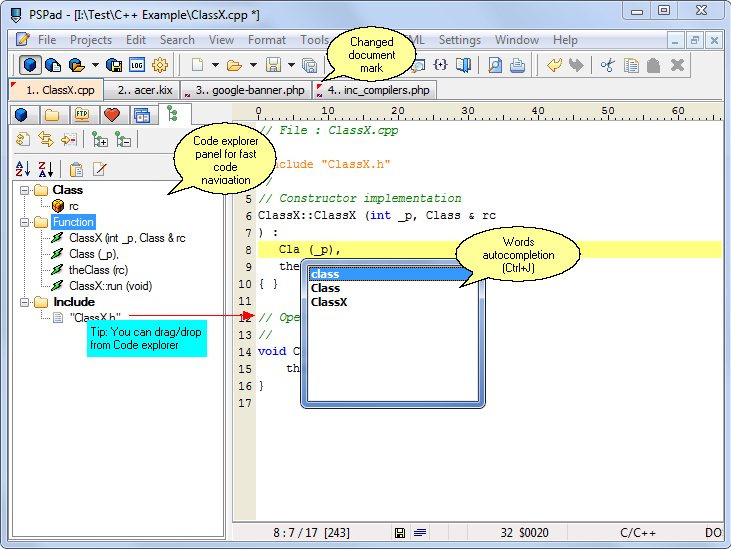 PSPad is helpful if you need to:
work with plain text -- it has a wealth of formatting functions, including a spell checker
create web pages -- as web-authoring editor, PSPad contains many unique tools to save you time
use a good IDE for your compiler -- PSPad will catch and parse compiler output, integrate external help files, compare versions, and much more ....
Partial list of special features of PSPad
work with projects [screenshot]
work on several documents at the same time (MDI)
Save desktop session to later reopen all open files
FTP client - you can edit files directly from the web
macro recorder to record, save and load macros
search and replace in files
text difference with color-coded differences highlighted [screenshot]
templates (HTML tags, scripts, code templates...)
installation contains templates for HTML, PHP, Pascal, JScript, VBScript, MySQL?, MS-Dos, Perl,...
syntax highlighting auto set by file type
user-defined highlighters for exotic environments
auto correction
intelligent internal HTML preview using IE and Mozilla
full HEX editor [screenshot]
call external programs, different for each environment
external compiler with catch command output, log window, log parser for each environment for "IDE" effect
color syntax highlight printing and print preview
integrated HTML-Tidy library for formatting and checking HTML code, conversion to CSS, XML, XHTML
integrated free version of top CSS editor TopStyle Lite
export with highlight to RTF, HTML, TeX format into file or clipboard
column block select, bookmarks, line numbers, ...* reformat and compress HTML code, tags char case change
line sorting with ability to sort on defined column, with option to drop duplicates
ASCII chart with HTML entities [screenshot]
Code explorer for Pascal, INI, HTML, XML, PHP, and more in future
spell checker
internal web browser with APACHE support
matching bracket highlighting
... and did we say that it's free? That's right!
By the way, there are lots of very slick features in PSPad.
My current favorite is called AutoComplete and it is unlike any other one I've seen since you don't have to teach it the autocompletions. It simply finds another word in your document that matches the prefix you have so far. So, if you typed printf() once before, you can type 'pr' followed by control-j (for autocomplete) and voila!
---
News - The latest stable version of PSPad has been downloaded over a million times! (see announcement on website.)
---
Note to cpc3-neww3-0-0-cust44.cdif.cable.ntl.com: this entry for PSPad already existed on TextEditors. Your entry now redirects to it.
--
DMcCunney
---