HomePage
|
RecentChanges
|
EditorIndex
|
TextEditorFamilies
|
Preferences
---

 Formerly known as DFL Designer, Entice Designer is a Form Designer for DFL.


 Author:   Christopher E. Miller
 Homepage: http://www.dprogramming.com/entice.php
 Platform: Windows
 Family:   IDEFamily
 License:  Freeware

Drag and drop GUI designer for:

Forms (Windows / Dialogs)
Tab control pages
Control container panels.
Many child controls for the above.

Set properties for the above design items easily with advanced property editor.
Ability to copy and paste the above design controls.
Tips briefly explaining what each property does.
Built-in code editor that includes:

D syntax coloring, including nesting comments and the different string types.
Code updated in real-time when designing.
Find and replace dialog with features.
Auto indent and smart indent options.
Show indent guides option.
Customized syntax colors and fonts.

Simplified code completion for std and dfl.
API viewer / code outline for std and dfl.
Automatically generating source files; optional main() function to initialize main form.
Detecting external changes to files and prompts to reload.
Extended properties; change file encoding (UTF) and other code properties.
Unicode support.

 Screenshot: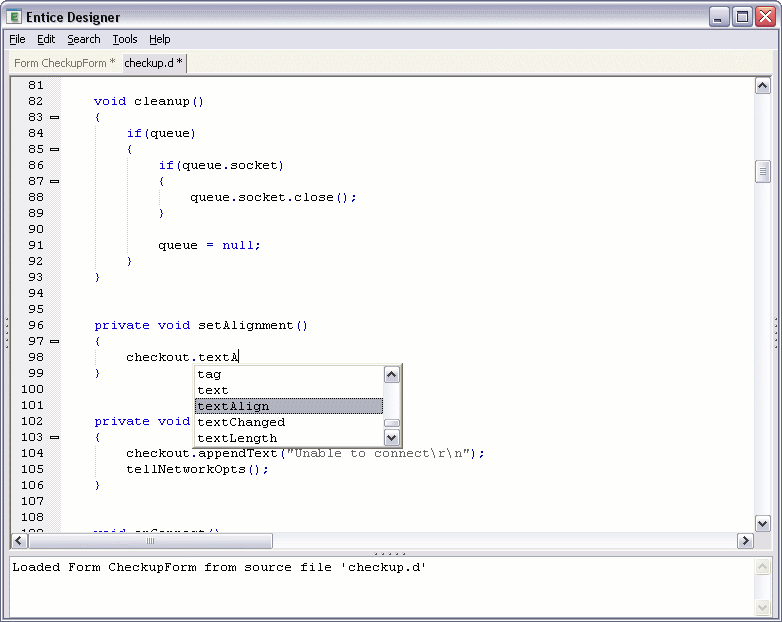 ---