HomePage
|
RecentChanges
|
EditorIndex
|
TextEditorFamilies
|
Preferences
---

 Shareware windows hex editor and binary file comparator


 Author:   Fairdell Software
 Homepage: http://www.fairdell.com/hexcmp/
 Family:   HexEditorFamily
 Platform: Windows
 License:  Shareware

HexCmp? is a program which combines together the features of a binary file compare application and a convenient hex editor.
Quick and easy file compare as a binary raw.
Modify any files in a hex mode.
Synchronous file and cursor scrolling.
Navigation through different or equal blocks of files.
"Info Panel", which shows file infomation and cursor point value as char, byte, word and dword.
Search function, which can help you to find any char string as a hex one.

 Screenshot: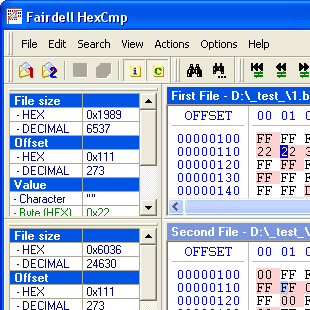 ---