HomePage
|
RecentChanges
|
EditorIndex
|
TextEditorFamilies
|
Preferences
---

 Early word processor for the Apple II


 Author:   ArtSci?, Inc.
 Info:     http://www.artscipub.com/history/magicwindow
 Family:   8bitMicroFamily
 Platform: Apple II
 License:  Commercial
 Screenshot: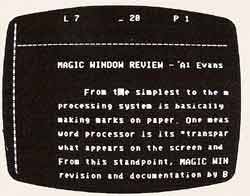 Magic Window dates back to the time when computers had 48KB user storage and two 320KB floppy drives. It gave some serious thought to the problems of writing a large (well, large for those days) document but having only a 25x40 character screen in which to do so.
A long article can be found at [the ArtSci site].
Here are some quotes to give you the flavour.
... use the arrow keys to move a white bar over the function you want, press Return to execute that function.
The Subsystem Menu offers six choices: ... and Exit to Basic.
... the cursor never moves; it stays right in the middle of the screen. Instead, the "paper" moves under it, just as it does on most typewriters.
That last point gave the program its name.
---